d-teach is involved as a partner in the European Horizon 2020 CIRMET project. CIRMET is a consortium of 15 industrial and academic partners from 6 different European countries. Together they design, develop and validate innovative solutions for energy and material recovery in energy intensive industries. The project partners want to disseminate the background knowledge and results as widely as possible via digital learning modules. These modules should appeal to students in these fields, industrial actors and the wider public. The project partners also want to be able to use the modules for various purposes, and the modules must be able to stand alone as well as be integrated into other systems.
Together with Ghent University, KU Leuven and the University of Mondragon (Spain), d-teach is responsible for the dissemination of the research project. Specifically, d-teach is responsible for the creation of an online platform and the development of online learning materials to inform the general public, students, policy makers and professionals about the CIRMET project results.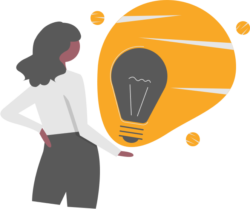 Curious? Keep an eye on this website! Do you want to know more about the specific development of the e-learning? Click here!
Project lead:
More info?
Contact me via lieselot.declercq@d-teach.com.
See you soon!