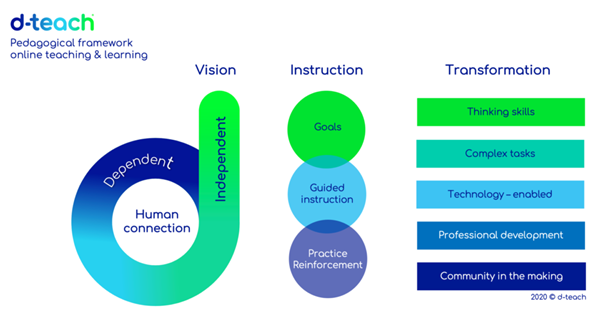 Interactive and motivating online teaching, how do you do it?
What is the difference between quality distance learning and emergency teaching?
We developed a unique pedagogical framework that is scientifically based and can serve as inspirationfor online teaching with concrete tips. We hope this will also help you in your online teaching.
d-teach stands for Distance Teaching and was founded by Lieselot Declercq and Annabel Declercq from an initiative of pedagogues at Ghent University. d-teach holds a unique position in the field of online learning in Belgium as 'd-teach online school' is an online international school with years of experience in online teaching and learning. Our target group consists of children, teenagers and adults from different countries. d-teach works with an interdisciplinary team of nursery, primary and secondary school teachers, speech therapists, psychologists and pedagogues to provide effective, personalised and tailor-made online training. There is also 'd-teach online training', an expertise centre helping organisations to become proficient in online training and digital skills. Our focus is on online didactics and interactive, motivating online learning.
We believe that 'online teaching' is a necessary competencefor every teacher. As there was no quality label for online teaching, d-teach developed a unique pedagogical framework for online teaching and learning in collaboration with Griffith University in Australia. The d-teach framework is scientifically underpinned by learning theories and co-constructed by qualitative data from interviews with online teachers. D-teach received support for this from VLAIO, the Flemish Agency for Innovation and Enterprise. D-teach presented this unique framework at international conferences such as Online Educa Berlin and the UNESCO conference Mgiep Tech in India. We are convinced that this model can also inspire all teachers in Flemish and international education.
Quality distance learning has a clear pedagogical vision of online didactics, is well thought out and planned in advance, interactive, efficient and structured. It requires the conversion of offline teaching content into a complete online story.
Do you also want to get started with this pedagogical framework?
Do you want concrete tipson how to set up qualitative online training and online teaching in your organisation?
Contact me via lieselot.declercq@d-teach.com.
See you soon!
Do you want to download this pedagogical framework?
Leave your details!